~Alex is 32 months~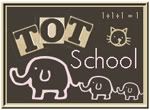 So I decided to take a break for the alphabet so we could do some of the fun Thanksgiving activities I have seen in the blog world.
We read
Five Silly Turkeys
by Salina Yoon
This is a cute little Thanksgiving counting book, it counts backward from five. Very similar to
Ten Terrible Dinosaurs
that we read the other week.
We went for a walk even though it was gray and dismal outside. Woody HAD to come with us.
Woody climbed a tree.
We made a hand print turkey. Alex put red, orange and yellow hand prints on a piece of paper. Then I cut out a circle and oval out of a brown paper bag for the body. I drew on the details and then we glued on some googly eyes. Then I cut out the turkey.
and we did some puzzles from
Lawteedah's Thanksgiving Tot Kit
We haven't used our cardboard blocks for a while so I pulled them out and Alex had a great time building towers and then destroying them.
and that was our day....
I'm sharing this on
We Play
Show and Tell
Read.Explore.Learn
and
Thanksgiving for Toddlers linky party