10/18/10
~Alex is currently 32 months~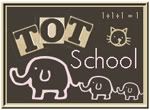 I decided that we would concentrate on color identification.The only color that I know for sure he knows in red. Today's theme was Autumn Colors.
The Leaf Man
by Lois Ehlert
This is a great book. We read it together and pointed out the different colors of the leaves. I thought a craft that he would enjoy would be to make a fall tree using fingerprints. I cut out a tree trunk shape piece of paper and had him start to paint it brown while I cut out another round shape to use as the leaves.
He started out doing finger prints....
Then it was more fun to finger paint with all the colors.
"Look at my hand, Mommy!"
The finished tree


Next we did a outside color scavenger hunt. I got this idea from
No Time For Flash Card's Nature Match post.
I used a egg carton and painted the colors in the bottom.
Then we went outside to see what we could find to match each color. Alex did pretty good, especially with red and purple.
Later in the afternoon I dumped everything out on the table and we matched our treasures with the colors again.
The last project of the day that Alex had very little interest in was a leaf collage from some leaves that we had collected and flattened in a phone book from last week. Mommy ended up doing most of it, but we hung it up in the window so we can name the colors later.
e